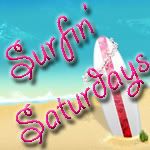 I am joining this new blog hop let's see how it goes.
In the last two days I've watched movies with my kids. Thursday night was the Tooth Fairy starring The Rock and Ashley Judd. This movie was HILARIOUS! It had me laughing all through it. The Rock was great and not to mention great to look at. Ashley's performance was great, but then again I love all her movies as she is an awesome actress. My kids really enjoyed this movie night we shared together.
Friday night we watched Kick Ass I really don't remember the main characters name but Nicolas Cage also starred in this movie. This movie not only had me laughing but in awe of the little girl who can kick some ass. In the movie she was great at fighting the bad guys and can definitely handle her own.
I am not a movie critic so may not be good on movie reviews, but I can say this if you have kids at home I think they will be satisfied with these two movies. if you've seen them let me know what you thought and if you haven't what are you waiting for.
The mall was krazy today as the kids are shopping for school. We shopped at the Fashion Fair mall JC Penney to be exact. They had some good deals on the clothes and I was able to save over $150. The clothes are cute and expensive as well. I can't remember the last time I actually shopped at the mall so I was in shock of the prices. I hardly shop at the mall. I am more of a Walmart shopper. That's my fave store. Especially with all the kids I need to save money along the way.
After the mall we went to IHOP for dinner. The kids ate free. They are having a promo for the month of August, one free kids entree (drink not included) with the purchase of an adult entree. This is everyday from 4pm - 10pm (participating stores only). I ordered the Tuscan Chicken Griller with seasoned fries and the Strawberry lemonade drink. This burger was mouth watering. I was in heaven with this chicken, especially the roasted tomatoes. The fries and the lemonade was not bad either. I am more of a chicken eater than I am meat, so naturally I wanted to give this meal a try. I give it 5 stars in my book.
So here comes the best part after dinner we went to guess where......ya you guessed it Walmart! Antonio wanted to take pictures of Lily since she was dressed up so beautiful. He says he doesn't see her dressed up often. I told him well we are always at home why dress up with no place to go. We will try to get out more and have fun in the process. But another reason I'd rather stay home is i feel drained all the time. this pregnancy is really taking a toll on my body, not to mention the insomnia. If any of you out there know of a safe way to treat insomnia I am all ears. I need some good night's rest.
It was a great day today! I am glad we went out and enjoyed ourselves. Saturday is clean up day! We are going to clean the house top to bottom as the party is on Sunday for my daughter. She is excited about turning thirteen. I hope she has a better party than I did at her age. Oh ya my daughter got invited to go to China next summer, some school program. We will go to the meeting and find out all the details. Don't know if she is going but nice to hear form the other students who went this past summer.
I put Buddy outside for the first time tonight. Let's see how he does. It's his first night in the big outside world. In case you don't know who Buddy is he is my almost 5 month old Chi Beagle. I find it hard to house break him and I wanted my laundry room back. He can do all his stuff outside like regular dogs. If you know of a good way to house break a puppy I am all ears as I do not know what I am doing.
I am still trying to potty train Lily so she can go to preschool. I do not want too force her as I do not want to traumatize her. I figure she will go on her her. Like I said I just don't have the strength right now. I am going to start on my prenatals tomorrow hopefully they will help with the tiredness.
That's all for now til I blog again! Good night ya'll at least I am going to try to fall asleep.